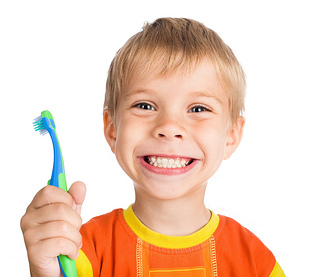 Imagine that you sit down for some evening television, and during the course of the evening, you see five commercials regarding dental products. They all claim to be the best. Then remember your last visit to the dental aisle at a local grocery store. The choices are overwhelming and there seems to be no sure answer as to which would be the best choice for your child.
Carolina Pediatric Dentistry recommends that parents break down the decision process. First, consider your child's age and stage of development. Up until age ten to 12, your child cannot adequately brush or floss independently. It is not a maturity issue, but rather dexterity. Automatic toothbrushes are appropriate for all ages if used with supervision. Brushing quality improves when using a battery-powered toothbrush. Use it together with your child, and always play an active role in your child's oral home care.
As a general rule, the brush head of the toothbrush should be a little larger than the child's upper portion of the thumb. This will help ensure it will fit in all the places it needs to.
Flossers are great for children. These will have a horseshoe shape on one end with floss in-between. A particular brand name does not matter. Some have a higher quality and this should be evident when you use them. You can make a choice for individual preference with color, handle size, or shape, etc.
There are many brands of toothpaste and there are also differences in the ingredients. Some contain sodium fluoride, the standard ingredient in cavity prevention. Others have stannous fluoride, which is anti-bacterial and anti-cavity. Potassium nitrate is commonly found in anti-sensitivity, and triclosan is found in one particular brand for anti-bacterial properties. It is most common for children to be at a high risk for cavities. Therefore, our team at Carolina Pediatric Dentistry recommends toothpaste with fluoride as soon as the first tooth erupts. Use no more than a grain of rice sized amount until age 3.  Beginning at age 3 years, use a pea-sized amount.
If you have any other questions, call us at Carolina Pediatric Dentistry or ask Drs. LaRee Johnson, Clark Morris, Gentry Byrd, Anne Baker, and Amanda Allen during your next appointment!